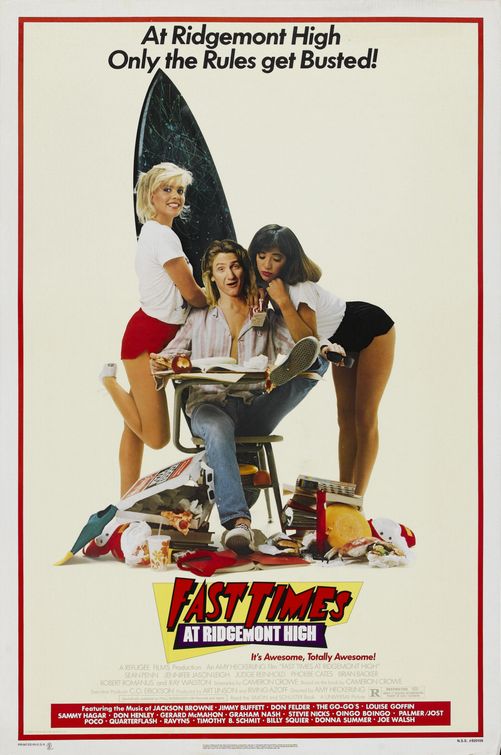 This Tuesday, the Mayfair celebrates 4/20 (see Wikipedia) by screening two iconic cinematic stoner classics: Fast Times At Ridgemont High from 1982 and Half Baked from 1998. One film showcases a rare comic performance from Sean Penn as Jeff Spicoli, surfer and slacker and the other features David Chappelle (who also co-wrote the film) as a pothead janitor. Both films are directed by women: Fast Times was made by Amy Heckerling (who went on to helm Clueless) and Half Baked by Tamra Davis who also directed the Adam Sandler comedy Billy Madison.
Fast Times is the more popular film of the two because of it's cast of rising stars, the screenplay by future Oscar winner Cameron Crowe (based on his book) it's popular 80s soundtrack and one of the most unforgettable nude scenes in film history. If you haven't seen Phoebe Cates topless you haven't seen anything. However, the film also features the underrated and easy on the eyes Jennifer Jason Leigh…and yes, she gets naked too.
Half Baked makes a perfect companion piece to Fast Times. Released in January of 1998 without much response from critics or audiences, the movie became a cult hit on home video and is actually a perceptive and witty satire on stoner culture. Chappelle was a frustrated comedian/actor who was still years away from the smash success of his TV series and stand up specials and in Half Baked he shows his energetic and likable comic sensibility.
Half Baked also contains various cameos from the likes of Janeane Garofalo, Tommy Chong, Steven Wright, a pre-born again Stephen Baldwin, Tracy Morgan and a surprising, vulgar and hilarious walk on from TV dad Bob Saget.
So on this 4/20 get off your couch and the be the guy on the couch at the Mayfair for two films that will make you high on laughter.
4/20 Double Bill-This Tuesday night
Fast Times At Ridgemont High plays at 7pm
Half Baked plays at 9pm