As Ottawa moves into Stage 3 of its reopening, we're excited to light up our big screen again, but we're still taking the current situation very seriously, and we've taken a number of measures to help protect everyone's health.
Specifically:
Limited, physically distanced seating
We've blocked off rows of chairs in our auditorium to create approximately 134 safe, physically distanced seats.
In accordance with public health guidelines, we are limiting admittance and ticket sales to 85 patrons per screening. (not 50% as many people think it to be. It's currently up to 50% while still taking into account social distant rules)
Please take note that doors open 30 minutes before showtimes. We encourage people to arrive early. We have a small box office, a small candy bar, and a single-screen cinema, meaning that when most of an audience shows up a few minutes before showtime, it causes a bottleneck. If possible, we appreciate you arriving a little bit early to pick out your seat and get your popcorn.
Thanks for your help!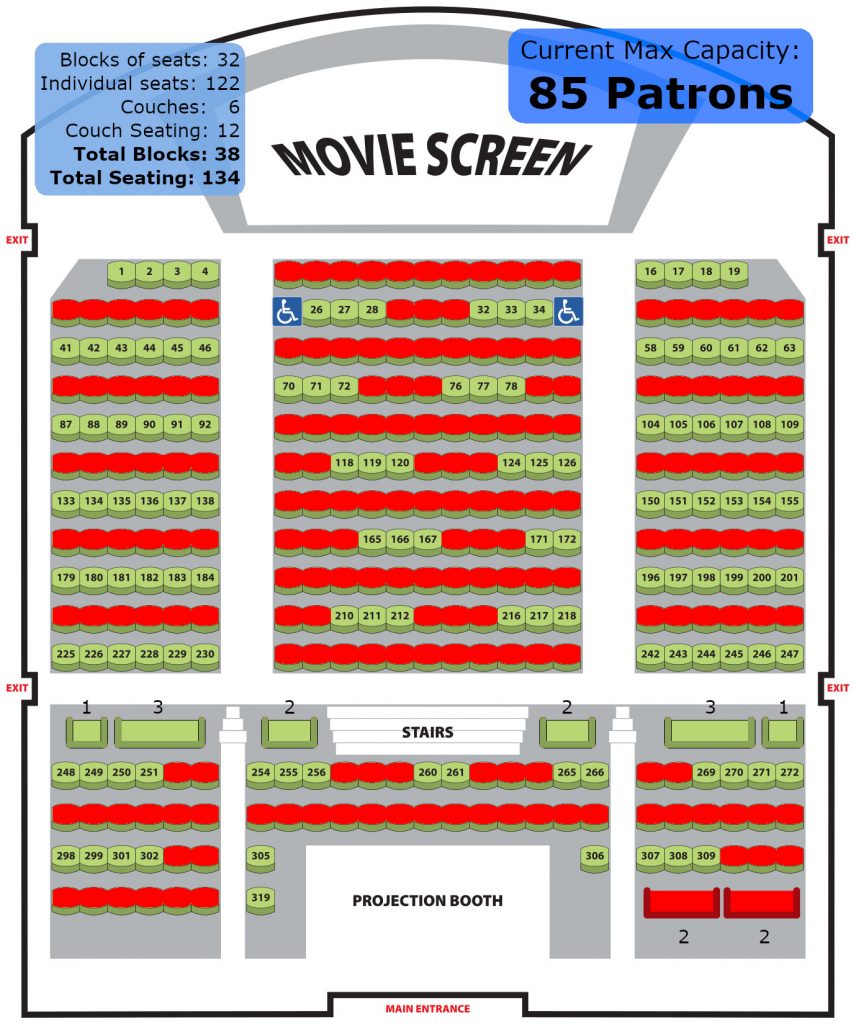 Mandatory masks
We are requiring all patrons and staff to wear masks while entering and exiting the building, and while in any common areas.
Once patrons are seated, they may remove their masks, if they wish, to eat and drink. If you are not eating or drinking, you must leave your mask on.
Enhanced sanitation and disinfection
There will now be longer gaps between screenings, to enable us to thoroughly disinfect the cinema, using wipes, cleaners, and a special fogger.
Our card payment devices, cash registers, ATM and other devices used by staff and the public are being sanitized regularly.
Our staff is following suggested protocols to keep themselves and the public safe, with frequent hand-washing, regular use of sanitizers, and wearing gloves whenever needed.
We've made soap and hand sanitizer readily available, and have increased the frequency of cleaning and disinfection for all high-traffic surfaces, before and after every screening.
All patrons are asked to dispose of their own garbage at the end of each show.
Additional barriers and distancing measures
We've installed plexiglas barriers in our candy bar.
At the end of each screening, we ask that patrons use the closest of our four exits within the cinema.
We have placed instructional signs and floor markers for physical distancing in lineups throughout the space.
When to come to the Mayfair, and when not to
We've asked any staff who are feeling unwell to stay at home.
Finally, in an effort to protect Ottawa movie-lovers, we kindly ask anyone who is not feeling well to please STAY HOME – come back another time, when you're feeling better!